TECNO Spark 7P was recently launched in the country and we were able to spend a good amount of time with it including a quick hands-on review and early first impressions and now after putting it to the test, here is our full review.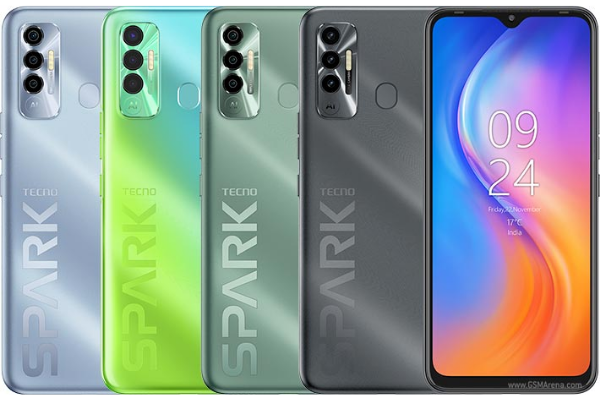 Design
TECNO Spark 7P is a beautifully designed smartphone. We have our unit in Alps Blue, but other colors you can choose from include Summer Mojito, Spruce Green, and Magnet Black.
The rear panel of the TECNO Spark 7P has a subtle weathered finish, especially for the Alps Blue option.
The Summer Mojito is the most iridescent color if you like it.
We have TECNO Spark branding on the bottom right, an AI-powered triple camera system, and a fingerprint sensor on the back.
We also have a power button and volume controls on the side that are easily accessible. At the bottom, we have a micro-USB port, a headphone jack, and a speaker grille.
On the front, we have a 6.8 ″ screen with a 720p resolution.
The screen is bright and vibrant to look at. The top of it all is that buttery smoothness thanks to the 90Hz refresh rate. Using this smartphone feels better with the fast refresh rate, whether it's to open and switch apps, swipe between home screens, games, watch movies and TV shows excessively, scroll through Twitter, Facebook, and Instagram, and browse the Web.
You will enjoy consuming multimedia content with the TECNO Spark 7P.
On the top bezel, we have a headphone that works in conjunction with the bottom speaker for stereo sound. We also have an 8MP front camera nestled in the notch for taking selfies.
The TECNO Spark 7P has a solid design and is well built and you will love using your smartphone.
Software and performance
TECNO Spark 7P has TECNO's new user interface, HiOS 7.6 that runs on Android 11. HiOS 7.6 comes with a new modern design with a minimalist visual experience and new features such as Peek Proof, App Twin, Video Assistant, Enhanced Smart Scanner with correction documents, phone cloner, among others.
One feature I used a lot is the smart panel which, when enabled, can be accessed by swiping from the left. A list of commonly used tools is revealed that you can customize to your preferences. I added shortcuts to apps that I opened frequently that didn't need to stay on the home screen.
You'll also get Android 11, Google's latest mobile operating system. The new operating system brings with it improved management of app permissions for the camera, microphone and location, storage with range, and automatic reset permissions for apps you haven't used in a while, Share nearby, the ability to pin apps to the Share menu and scheduled dark mode, powerful multimedia controls, seamless updates, multitasking panel, improved autocomplete, suggested apps, biometric authentication, among many other useful features.
HiOS 7.6 also includes bloatware. However, unnecessary applications can be easily uninstalled or disabled.
The TECNO Spark 7P runs on the Helio G70 chip with a Mali G52 GPU along with 4GB of RAM and 128GB of onboard storage.
This spec update improves TECNO's game here with the Spark 7P, pun intended.
The smartphone keeps up with my routine tasks that involve switching between light and heavy workloads.
I was switching between various Chrome tabs, selecting my Spotify playlists, scrolling through social media, checking and replying to emails.
It could also push the TECNO Spark 7P out of its comfort zone with heavier tasks, including gaming games with high graphics, and that high refresh rate is the icing on the cake.
I'm pleased to see these games play so smoothly, including Two Dots, Alto's Odyssey, Ninja Arashi 2, Dead Trigger 2, Atomic, Among Us, Critical Ops, Final Fantasy XV Pocket Edition, Asphalt 9 Legends, NFS No Limits, that you can play. at 90Hz.
PUBG Mobile was unable to play at 90Hz, which was sad to see. However, I was able to choose the highest graphics options, including HD graphics and a high frame rate.
In terms of overall performance, the TECNO Spark 7P is a significant advance and I am especially impressed.
Cameras
The TECNO Spark 7P comes with a 16MP triple camera setup and an 8MP selfie camera. We have a four-LED flash next to the camera matrix and a dual-LED flash on the front of the top bezel.
TECNO Spark 7P included new camera features for gaming, such as slow-motion (240 fps), night portrait for selfies, bokeh video, super night mode, and smile snapshot.
Video resolutions include recording them at 30 fps for 720p, 1080p, and 2K.
The TECNO Spark 7P handles various scenes quite well and I am pleased to report that the cameras did better than I expected.
Most of the photos came out very well with decent detail and dynamic range in good light, including color reproduction. The low-light performance surprised me, especially the super night mode.
Here are some sample photos. A link to the full resolution images will be provided below the gallery.
Selfies and portraits
Regular shots
Bokeh Shots
Lowlight and its super night mode
Battery
TECNO Spark 7P has a 5000 mAh battery that provides excellent battery life for everyday use. For most users, the large battery should be sufficient and consume more than a day.
The phone's battery has worked well for me in the two days I have been using the TECNO Spark 7P. During days of heavy phone use, I was getting 20-30% of the remaining battery life even with 90Hz enabled, which I would use to navigate at night before reaching Slumberland.
With light use, the TECNO Spark 7P can last until the next day before needing to be refilled.
The downside to this huge battery is the hours it takes to charge the TECNO Spark 7P, as it comes with a micro-USB port. You will have to wait more than 2 hours to go from empty to full.
Battery life with the TECNO Spark 7P is pretty strong and that 90Hz refresh rate is the last thing you need to worry about.
So if you are looking for a battery-powered workhorse, the TECNO Spark 7P is the one to choose.
So should you buy the TECNO Spark 7P?
TECNO Spark 7P is a breakthrough and its improved features make it an attractive buy – you get great value for money – consistent performance thanks to the combination of hardware and software, capable photography, especially super night mode, impressive battery performance. . and the high refresh rate display.
The TECNO Spark 7P is an overall attractive package and offers almost everything you need in a budget smartphone and a little more.
Pricing and availability
TECNO Spark 7P starts selling from Ksh 13,499 and is available in official TECNO retail stores in the country